Seasonal Late May thru August
Bear viewing ​2-3 hours of bear viewing, 6-7 hours total
OPTIONAL: Halibut fishing and/or clam digging can be combined with this trip
Seasonal Late May thru August
Bear viewing 5-8 hours with the bears, 8-10 hours total
OPTIONAL: Halibut fishing and/or clam digging can be combined with this trip
Seasonal Mid July - September
Bear viewing 5-7 hour trip total
Seasonal Fly In Mid June - August​
Bear viewing 3-4 hour trip
**  $6/per person park fee included in tour costs
*** Fishing licenses are required for those who intend on fishing
---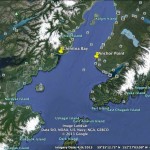 click on this image to view the Chinitna Bay.
---
Overnight Trips
Accommodations for overnight trips with multiple days of Alaska Brown bear viewing can be made. Please contact us for more information.

---
Chinitna Bay, Lake Clark National Park
(Late May through August)
We depart  our bear viewing tours  to Chinitna Bay from Anchor Point  via Boat near Homer, Alaska and Travel about 40  miles across Cook Inlet to land on one of several beaches  in Lake Clark National Parks. We then walk to the area to view the bears in the park.
Our boat ride takes 1.5 hours each way and the scenery along the coast is breathtaking.  On most days you will see glaciers, volcanoes, waterfalls, whales, sea birds, bald eagles and of course bears.
Lake Clark National Park is one of the best places in the world to view Alaska brown bears. Most days we will see 20-40 bears.
Lake Clark, has a population of several thousand  brown/grizzly bears,compared to only a few hundred grizzly bears in Denali National Park.
Bear viewing trips in Lake Clark National Park is also better because large numbers of bears gather on the coast around food sources such as clams, sedge grass meadows and salmon streams.
Lake Clark National Park coast is home to many other animals and it is common to see bald eagles, wolves, foxes, seals, sea lions, puffins, in addition to brown bears.  Lake Clark National Park is only accessible by boat or bush plane.  Being so remote it is the least visited park in the national park system and  offers a true wilderness experience with very few other people,.  There are no platforms, time limits, or waiting lines to see the bears and unlike McNeil River there is no lottery to enter to receive a permit to view bears, Landing on a beach in the middle of the Alaskan wilderness among wild brown bears is an experience of a lifetime and of sheer amazement.
Overnight Trips can be arranged with lodging in a nice cabin with running water and meals (call for price)
Halibut fishing and/or clam digging can be combined with this trip
---
Crescent Lake, Lake Clark National Park
(Mid July- September)
This Trip will depart Nikiski Alaska, near Kenai via Float plane, for a 40 minute breathtaking flight across Cook Inlet & thru the Chigmit mountains of the Alaska range, flying over Redoubt Volcano, several glaciers, & mountain ridges off your wing tips,  Once landing on a large beautiful  lake nestled in the mountains, we will  then load into a small Jon boat where we will cruise the coast line looking for bears.
The bears come to the shoreline to feed on the salmon.  This trip can also be combined with salmon fishing.
---
Big River Lakes (Wolverine Creek)
This trip also is accessed  via float plane and is a short 15 minute flight from Nikiski.
After landing on Big River Lakes we will board a  small Jon Boat and run over to a small creek  where salmon are congregated we will stay in the boat the entire time waiting for a bear to come out to try to catch a fish,  we usually always see bears on this trip but mostly small sub adult cubs that have just been kicked out from mom..
This is a popular location for fly out fishing by air taxis and bear viewers from anchorage so there will be multiple boats, and people around compared to Chintina Bay.