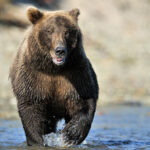 When most people imagine Alaska, it's a picture of gorgeous natural beauty and unique wildlife. There's nothing more quintessential Alaska than a bear tour—nowhere else in the world can you have an unforgettable bear-viewing experience than the Chinitna Bay, located on the west side of the stunning Cook Inlet. It's a corner of the world nearly untouched my humans, and few people ever get to experience the natural beauty. In his decades of experience, Captain Mel Erickson has brought thousands of groups through Chinitna Bay to see the best areas in the region for watching wildlife in their natural habitats and taking in the stunning beauty.
Why Choose Chinitna Bay Bear Tours?
In the small Chinitna Bay, there aren't crowds of tourists, long lines, or strict schedules. In fact, we're the only group serving the area, which means you aren't fighting for viewing time with other groups and can focus on a personal experience with the beautiful area.
While many people chose to look for bears by plane, going on a boat tour provides a better view of marine life, such as whales, seals, sea lions, and sea birds, as well as access to beaches and areas of the coastline that many planes can't reach. There's also the added option to join in seaside activities like fishing or digging for clams. On top of it all, travelling by boat is less expensive than going by plane, and there are fewer things that can stop a boat from traveling, such as weather or low visibility.
Best Season to Book a Chinitna Bay Bear Tour
Chinitna Bay Bear Tours are seasonal from late May through August. Our Gamefisher aluminum boat can fit up to six guests at a time, providing you with a secure and intimate experience. The boat's unique design makes it easy to traverse shallow bays and tight areas that very few people ever get to experience. The half-day tour runs for 5-6 hours, with 1-3 hours of bear viewing, while the full-day tour runs for 8-10 hours with 5-8 hours of bear viewing time. The boat brings groups through the stunning bay to fields and woods with bear access. From there, it's a hike through the woods to see all types of bears.
Even during the summer months, weather in Alaska can be cool and wet, so guests should come dressed in layers with jackets and long pants, as well as sturdy shoes that are comfortable for walking long distances.
A bear boat tour in Alaska is a rare experience that can't happen anywhere else. Call us today to book the travel experience of a lifetime!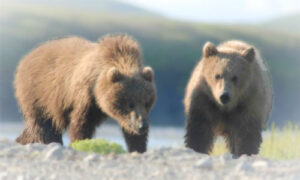 Bears in Alaska can be quite interesting to watch as you see how they socialize with other bears, how they feed and how they carry out many other activities. It is definitely something you should do when you visit Alaska. The best time for a bear viewing charter in Alaska is from late May through September.
Usually, there is a charter for bear viewing from late May through August. During this time, Lake Clark National Park has a high population of bears, mostly brown bears. On a daily basis, 20 to 40 bears are usually seen in the park. The high population of bears around the coast is due to the food sources at the coast which include salmon streams, clams and sedge grass meadows. Apart from bears, you may also enjoy seeing other birds and animals around. When booking a trip through Chinitna Bay Bear Tours, visitors to spend the night at the park and take part in fishing.
Mid-July through September is also another good season for bear viewing in Alaska. The trip takes between 5 to 7 hours as visitors are taken across the Cook Inlet and Chigmit mountains and the Redoubt Volcano via a plane. Upon landing, they board a boat which takes them across the coastline as they watch the bears feed on salmon and other foods. Visitors who are qualified to fish can do so during the boat trip.
Another bear viewing charter is also arranged from mid-June through August. The trip is shorter, lasting between 3 and 4 hours. Visitors are taken to Big River Lakes via a small Jon Boat to the place with a large population of salmon. They then wait to see the bears come to catch the fish. In most cases, the cubs are the ones present. The parent bears at this place are few. Visitors have the option of fishing while watching the bears.